All NORMACONNECT® pipe couplings are factory equipped with the standard strip insert. The strip insert protects the sealing sleeve from increased mechanical and chemical loads. It also prevents the sealing sleeve from moisture expansion and allows larger gaps between the pipe ends to be connected. Furthermore, it allows larger angular deflections and misalignment. With the strip insert the couplings can also be used for both vacuum and high-pressure applications without any problems. The strip inserts are made from plastic material or stainless steel.
For NORMACONNECT® pipe couplings use lock bars with a larger diameter. Thus the rigidity of the coupling is increased and the engagement of the threaded end of the locking bolts is considerably improved.
4. Anchoring ring with conically stamped teeth
The anchoring ring with conically stamped teeth indents into the pipe surface and provides safe and strong axial restraint. Owing to the special design the coupling is able to withstand even high vibration loads.
5. Protection ring
The protection ring protects the sealing sleeve from UV rays, fire, etc. and increases the flexural strength of the coupling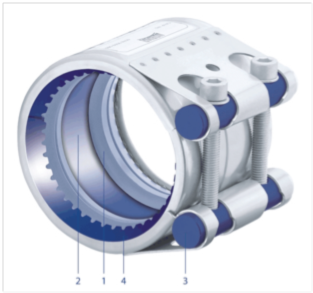 Overall NORMACONNECT® products create dependable permanent connections for various pipe types carrying various media. NORMACONNECT® is the perfect solution for fast fit requirements. They require no special tools for fitting and do not entail pipes to be treated or prepared – thus reducing downtime and providing a reliable and economically sound clamping solution.